Kenny R.
Multi-ligament knee injury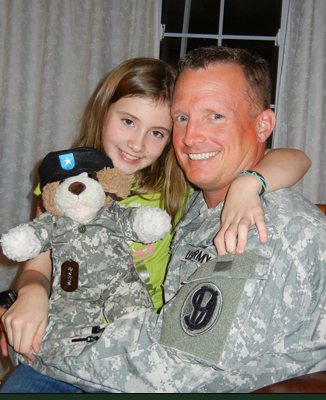 I would like to first start off with saying a huge Thank You to Dr. Waterman and all that he did for me. I am a Soldier of 23 years in the United States Army and of that time I have done a lot throughout my career and maintaining my physical fitness has been a big part of my life. That came to a stop the day I went for a Division run and felt my knee pop. I went to the hospital to find out what happened and the dreaded news that my knee was completely messed up. Dr. Waterman was very descriptive in the different procedures available and under the circumstances the best procedure was to do the Autologous chondrocyte implantation (ACI) and Tibial Tubercle Osteotomy (TTO). He was thorough in the procedures available and seriously took the time to ensure that I understood what was about to happen. It was an easy decision to make after talking with him about what to expect from the surgery.
The surgery was done and afterwards he came to my room before I was discharged to show me pictures of how bad my knee was and what was done to correct it. The pictures were amazing and they showed me how bad the damage was to my knee cap and femur.
After completing physical therapy for many months after the surgery my knee is better than ever and I greatly appreciate all the information and bedside manners that Doctor Waterman had to ensure me that the surgery would be a success. There aren't many doctors out there that take the time with their patients to give them peace of mind about what is going to happen and treat you like a human being or a family member that is going to have a major surgery done on them. He took the time to ensure that I was educated on the procedure and comfortable with what was going to happen.
Since the surgery my knee continues to improve and strengthen. It is a long recovery but worth the wait for the final outcome. I hope that the procedure continues to improve and develop for all those out there with the same issues I have had to go through. Hopefully they will mimic what Doctor Waterman has done and they have the passion to serve rather than push individuals through to get paid. Once again, Thank you for your passion and zeal! Keep up the great work that you do.
At a Glance
Dr. Brian Waterman, MD
Chief & Fellowship Director, Sports Medicine, Wake Forest
Team Physician, Wake Forest University, Chicago White Sox
Military affiliation/Decorated military officer and surgeon